Kosovar envoy Vlora Citaku: 'Our people look up to Israel'
Vlora Çitaku, Kosovo's ambassador to the United States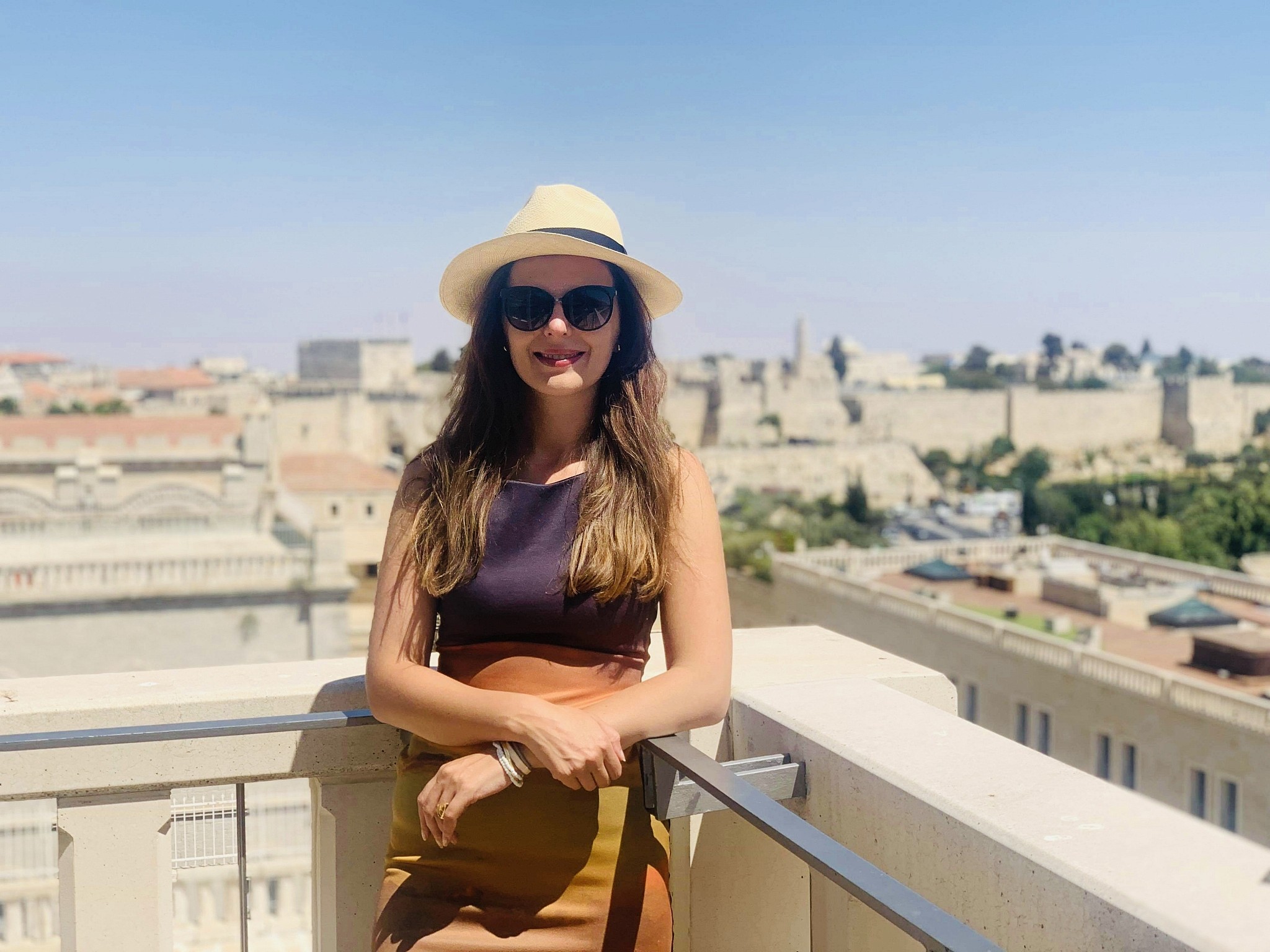 ---
By Larry Luxner
TEL AVIV — In 2013, Vlora Çitaku, then her country's minister for European integration, became the first Kosovo government official to cross into neighboring Serbia — the same country that denies Kosovo's existence as a nation.
Last week, Çitaku made history again by visiting Israel — the first Kosovar ambassador in the United States to do so — as part of an eight-member delegation that also included U.S.-based diplomats from Albania, Austria, Bulgaria, Montenegro, Poland, Honduras and the Dominican Republic.
Yet unlike those other countries, Kosovo has no relations with Israel. And that's a real shame, said Çitaku, who spent eight days here as part of the American Jewish Committee's Project Interchange.
"I was mesmerized with the potential of this country," the 38-year-old envoy told me Sunday, right before her flight back to Washington. "Unfortunately, not many Kosovars have had the opportunity to visit Israel, but our people look up to Israel as an example of how a state can be built. Just like here, we have dynamic, smart and competent youth who also happen to be very creative and innovative."
Like any ordinary tourist, Çitaku and her fellow ambassadors hiked the ruins of Masada, explored Crusader castles in Akko, took selfies while floating in the Dead Sea and enjoyed Shabbat dinner with an Orthodox Jewish family in Jerusalem.
They also did some things only VIPs get to do: visit Israel's border with Gaza under the protection of IDF officials, meet Palestinian girls working as software engineers for a high-tech firm in Ramallah, and inspect recently discovered Hezbollah tunnels along the border with Lebanon.
"The most extraordinary thing I take away from this visit is the unique way in which the Jewish people love their country. It's second to none," she said. "We all love our countries, but I've never seen anything like what I've seen in Israel. What makes Jewish society different is consistency. They fought in wars when it was necessary, but kept the promise. Jews from all over the world have come back to help rebuild their nation."
Front-row seat to ethnic cleansing
The landlocked country Çitaku represents is home to 1.8 million people, about 95% of them Albanian-speaking Muslims (some 56 Jews also live there, nearly all of them in the medieval city of Prizren).
Less than half the size of Israel, Kosovo was once an autonomous province of Serbia, which itself was one of the six republics comprising the former Yugoslavia. In fact, during the Middle Ages, Kosovo was so central to Serbia's cultural, diplomatic and religious life that it was known as the "Serbian Jerusalem."
Following the Balkan bloodshed that saw the disintegration of Yugoslavia in the 1990s, Serb leader Slobodan Milosevic fought to maintain Belgrade's hold on Kosovo during the 1998-99 war. But after NATO launched an intense aerial bombing campaign to prevent a humanitarian disaster in Kosovo, Serb forces were driven out and the area fell under UN administration.
Over Serbian (and Russian) objections, Kosovo seceded from Belgrade in 2008. While the two neighbors have taken tentative steps toward reconciliation, the ghosts of the past continue to prevent both sides from fully moving forward — or from joining the European Union.
Çitaku knows that history all too well. Born in 1980, the future ambassador grew up as a refugee, with a front-row seat to the civil war that killed an estimated 10,000 people and shaped her own destiny. She says she'll never forget the day Serbian soldiers deported Çitaku and her three sisters to neighboring Macedonia — separating them from their parents — as part of an ethnic cleansing campaign that affected millions throughout the former Yugoslavia.
"The Serbs refuse to accept the reality of Kosovo's independence. But more painfully, they refuse to take historical responsibility for their war crimes — not only in Kosovo but throughout the former Yugoslavia. Those crimes, committed under Milosevic, were the most heinous in Europe since the end of World War II," she said. "Over one million Kosovars were forcibly deported from their homes."
Thanks to her knowledge of English, Çitaku at 18 began working as a stringer and interpreter for Time magazine and other media, since all the Albanian-language outlets had been closed.
She later became a spokeswoman for the self-styled Kosovo Liberation Army and joined the demilitarized KLA's political wing, the Democratic Party of Kosovo. She served two terms in parliament before becoming acting foreign minister and eventually minister of European integration.
Kosovo: Nobody is more pro-American
Following a stint as Kosovo's consul general in New York, she became ambassador to the United States in August 2015 and is especially active on social media, with 83,000 followers on Twitter and nearly 47,000 on Facebook.
Currently, Kosovo has formal relations with 116 countries, and maintains more than 40 diplomatic missions around the world. None, however, is more important than the one in Washington, which Çitaku has headed for nearly four and a half years.
Located in the same building housing the EU, her embassy employs seven diplomats. Çitaku is considered one of the most popular, fashionable ambassadors in Washington — and from her first day on the job, she's used her influence to win Kosovo friends on Capitol Hill.
"We are blessed to have enjoyed bipartisan support" from both Democrats and Republicans, she noted. "Eliot Engel is our champion in Congress, but so was John McCain — and we're expanding the number of friends in Congress every day."
In that regard, the two nations are similar. In fact, she said, "Israel and Kosovo have much more in common than one would realize. We're both small countries and we're both neighbors with 'frenemies.' We both are pro-American, and we both have a very strong diaspora which played crucial roles in our liberation and state-building."
Kosovo is, hands down, the most pro-American country on Earth. According to Gallup's Rating World Leaders: 2019 survey, 80% of Kosovo's inhabitants approve of U.S. leadership in the world, outranking both Albania (69%) and Israel (67%).
At the other extreme, only 17% of Serbs had anything nice to say about the United States — which, after all, led NATO's 1999 anti-Serbia campaign amid widespread accusations of ethnic cleansing.
What's holding up Israeli recognition?
Kosovo is also intensely pro-Israel. In September 2018, the country's president, Hashim Thaci, announced publicly that he'd set up an embassy in Jerusalem if it were to win diplomatic recognition by Israel.
"Kosovo supports a two-state solution. We believe that Palestinians and Israelis should be able to live in peace, next to one another as neighbors. Just like us. We cannot change geography, but when it comes to major foreign policy objectives, Kosovo always follows the American position."
She added, quickly: "That's not because we are obedient, but because we know where we stand."
So far, only the United States and Guatemala have gone so far as to declare Jerusalem the capital of Israel; even Albania isn't ready to relocate its embassy from Tel Aviv, its ambassador here, Bardhyl Çanaj, told us last week.
Some observers have hinted that Israel is holding off for fear of offending its Serb allies, but Çitaku believes its reluctance has nothing to do with Kosovo or Serbia.
"This is more related to regional dynamics here in the Middle East," she said — a likely allusion to Palestinian aspirations of statehood. Besides Israel, other countries that have withheld recognition of Kosovo include Spain, Morocco, Russia, China and India, out of opposition to unilateral declarations of independence — including by territories they control.
"Although Israel has not yet formally recognized Kosovo, they've always been very supportive of us," the ambassador said. "We all vividly remember when the president of Israel visited refugee camps, and the support we got from the Israeli government during the darkest days of our lives, when Israel took in Kosovar refugees."
Much more recently, she said, "Israel has voted in our favor each time is could" in support of Kosovo's sometimes failed efforts to join international bodies like Interpol, the World Bank and the IMF.
Even without diplomatic ties, the two countries are talking about setting up trade offices in each other's capitals. Food processing and agriculture are said to be the most promising sectors for Israeli-Kosovar business cooperation, though the country also seeks Israeli investment in energy, security and the IT sector.
Çitaku to Serbs: Time to 'let go'
At the moment, 11 Israeli companies are active in Kosovo. The largest is a €175 million Israel-German joint venture involving a 105-megawatt power plant in northern Kosovo that will sell electricity to the government over a 12-year period. Enlight Renewable Energy Solutions Ltd. said the project, expected to go online in 2020, includes 27 wind turbines and has a life span of 30 years.
Given its 27% unemployment rate and the difficulty Kosovars have in obtaining visas to travel just about anywhere in Europe, any foreign investment in the impoverished country is welcome.
Yet the fact that Kosovo, like Albania, is a predominantly Muslim country has never stood in the way of its relationship with Jews or Israel. It's no secret that many Kosovars, like Arslan Resniqi, hid Jews from the Nazis during World War II and were later honored by Israel's Yad Vashem — the World Holocaust Remembrance Center in Jerusalem — as "righteous Gentiles."
Kosovo also gave the world Mother Teresa, whose family came from Prizren. That city is also where construction is to begin later this year on Kosovo's first Jewish museum, with help from Albanian-American Muslims in the New York area. The $300,000 museum-synagogue project is spearheaded by Votem Demiri, 72, the patriarch of Kosovo's tiny Jewish community.
"Kosovo is very secular, and religion is not the main pillar of our identity," Çitaku said, recalling how, as a child, her family would celebrate Eid al-Fitr as well as Christmas and Easter. "We've never allowed religion to divide us. Our identity is built around our language and our shared history."
Before wrapping up our interview, Çitaku warned that Serbia's seven million people must be "liberated from the myth" of Kosovo that continues to keep their country, and their struggling economy, hostage.
"We've been treated for far too long as second-class citizens," she complained. "But we know very well that the reality of an independent Kosovo — and membership in NATO and the EU — is irreversible. Sooner rather than later, every country will have to recognize this fact. We want to move on, but Serbia needs to be ready to let go."