Ambassador Canaj meet Shai Bazak, CEO of The European Leadership Network
Ambassador of Albania to Israel, Dr. Bardhyl Canaj held a meeting today with Shai Bazak CEO of The European Leadership Network (ELNET)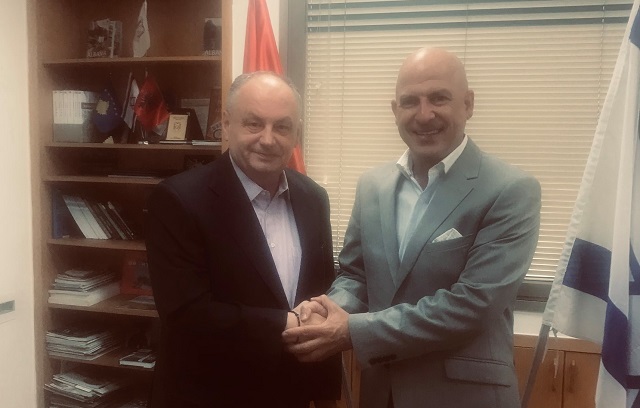 ---
Ambassador of Albania to Israel, Dr. Bardhyl Canaj held a meeting today with Shai Bazak CEO of The European Leadership Network (ELNET). They both agreed on the existing opportunities to brings together leaders and representatives from Albanian Government in Israel who believe in the importance of close relations between Europe and Israel, based on shared democratic values and common interests.
ELNET provides unique opportunities for mutual dialogue and encourages exchanges among policymakers from different political backgrounds. ELNET facilitates in-depth policy discussions on key strategic issues and host high-level delegations to experience the realities on the ground.
ELNET is a non-governmental organization which strictly maintains its impartiality and independence and believes that a strong Europe-Israel relationship can be achieved through a nuanced, balanced and multidimensional approach.
ELNET strongly supports a safe and secure Israel and the pursuit of peace in the Middle East through direct negotiations between Israel, the Palestinians and Arab countries. Europe has an important role to play in supporting the parties achieve peace and stability.