Bennett drops ultimatum despite cold shoulder from PM, keeping coalition afloat
In about-face, Jewish Home leader heaps criticism on Netanyahu's defense policies but says he will nevertheless 'stand by his side'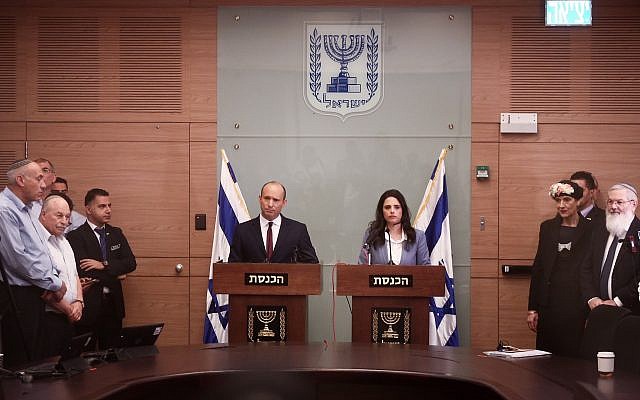 ---
In a dramatic announcement Monday morning, Education Minister Naftali Bennett reneged on a promise to pull his Jewish Home party out of the government and force new elections if he is not made defense minister, keeping the coalition alive with a razor-thin majority.
Despite heaping withering criticism on the government's defense policies, Bennett said he will back Prime Minister Benjamin Netanyahu, who has now also taken on the position of defense minister, in an effort to improve Israel's "deep security crisis."
Speaking at a press conference at the Knesset, Bennett said he had decided to "stand by the prime minister's side," and not act on his ultimatum to leave the government.
Citing what he described as a series of failures, Bennett said that "the ship of Israel's security has sailed in the wrong direction."
"Israel has stopped winning" since the Second Lebanon War in 2006, he complained, speaking alongside his party number two, Justice Minister Ayelet Shaked. "I've seen it. I've seen the confusion, the chaos, the lack of determination, the lack of spirit."
Yet, despite the criticism, the Jewish Home leader said he believed that Netanyahu would be able to "change direction" with him by his side.
"We think that there is no answer to terror, to rockets and mortars, but there is an answer — we can get back to winning," he said.
The announcement came after Netanyahu urged his partners on Sunday night to stay the course in the current government because Israel is in "one of our most complex periods in terms of security."
Source: https://www.timesofisrael.com/bennett-says-he-wont-resign-reneging-on-ultimatum/