Albanian President Ilir Meta lauds 'fantastic' Israel ties
Albanian President Ilir Meta, at left, greets his Israeli counterpart, President Reuven Rivlin, at the official presidential residence in Jerusalem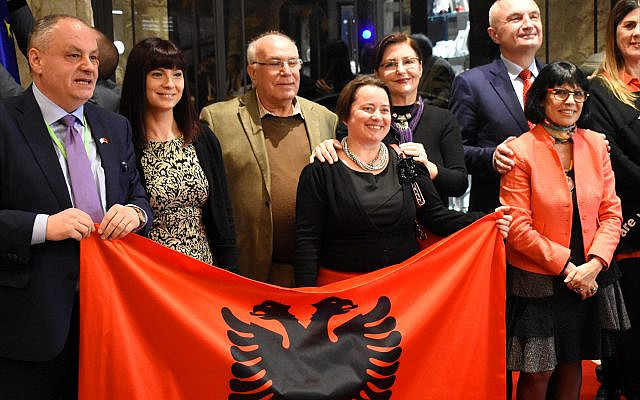 ---
By Larry Luxner, The Times of Israel
JERUSALEM — Leaders of 49 countries converged this week on Jerusalem for ceremonies marking the 75th anniversary of the liberation of Auschwitz. But only one European nation — Albania — can claim it had more Jews at the end of World War II than when the war started.
Thursday evening, as Russia's Vladimir Putin, France's Emmanuel Macron and U.S. Vice President Mike Pence headed to the airport for their flights home, I had a long talk with Albania's president, Ilir Meta, that covered a range of issues including his two-day visit to Israel.
"I'm here because we should never forget," declared the president, kicking off our exclusive 45-minute interview at Jerusalem's Hotel Inbal. "The best way to do that is to show our solidarity with those who suffered so much in the Holocaust and lost their lives during this industrial mass murder, the scale of which the world had never seen before."
He added: "We also want to honor the survivors who witnessed this genocide — and to send a clear message to anyone who promotes exclusion, hatred and violence. I represent Albania, which was unique for not only protecting and saving all its Jews, but also for protecting many others who came to Albania from other countries to avoid being exterminated."
The president's bold assertion rests on solid historical facts. Virtually all of Albania's 300 Jews survived the German occupation thanks to local Muslims and Christians, who also sheltered more than 2,000 Jewish refugees from neighboring Yugoslavia and elsewhere in their homes and basements — often without regard to their own safety.
"It was our obligation to do it," said Meta, 50. "But we hope this great bond between our nations will result in more productive relations for the future. We can learn a lot from Israel and also be very effective partners, especially in security. We face common threats such as terrorism and violent extremism."
Historic visit in the works?
The visit marked Meta's second to Israel; his first was as speaker of Albania's parliament, in 2014. This time around, he not only met with his counterpart, Reuven Rivlin, but invited him to Albania. If Rivlin accepts the gesture this year, as expected, he'll make history as the first Israeli president ever to conduct an official visit to Albania.
The late Shimon Peres traveled to Tirana in 1994, three years after the two countries established diplomatic relations, but as prime minister, not president. In July 2018, officials in the Albanian capital dedicated a memorial in his memory.
Meta, who headed a 10-member delegation to Jerusalem, has been president of Albania since July 2017; from 1999 to 2002, he was the country's prime minister. He said a clear distinction must be made between the hostile, anti-Israel policies of the tyrannical Enver Hoxha dictatorship — which lasted from 1944 to 1985 —and ordinary peoples' feelings towards Jews.
"Despite his communist rhetoric against Israel and his friendship with radical Arab states, during that time, Jewish people in Albania were very well-respected and well-integrated," the president said. "One of my best teachers, Marlena Dojaka, was Jewish, and we are still in touch. Jews were among the best intellectuals of Albania."
When the communists were overthrown in the early 1990s, virtually all those Jews emigrated to Israel. Today, they and their descendants here number about 550, said community leader Felicita Jakoel, who was among a dozen or so Albanian Jews to meet with Meta prior to my interview. Leading that gathering was Bardhyl Canaj, Albania's ambassador to Israel.
About 70% of Albania's 3 million inhabitants profess Islam — a figure that rises to 90% in neighboring Kosovo, a former autonomous province of Serbia that unilaterally declared independence in 2008. While Jews never experienced anti-Semitism in either country, that certainly hasn't been the case in the rest of Europe — or increasingly in the United States, for that matter.
"This is unacceptable," Meta warned. "If we tolerate anti-Semitism, it can become the mainstream and would endanger everyone — not only Jews. During the Holocaust, six million Jews were murdered. But everyone who neglected the Jews in the beginning understood in the end that anyone can be a victim of such policies."
Quake recovery efforts continue
Meta said Israel's friendship with Albania was on display Nov. 26, when the Balkan republic was hit by a 6.4 earthquake that killed 51 people, injured 2,000 others and left an estimated 13,000 homeless, according to preliminary estimates. The IDF immediately sent a 10-member specialized team to extract survivors and survey buildings to determine whether they remained structurally sound after the quake.
"There was huge damage, and unfortunately cannot repair or recover are the lives of the 51 Albanians lost during this tragedy," Meta said. "But we are determined to face this humanitarian crisis and provided assistance to all the people who suffered during this earthquake."
On Feb. 17, international donors will meet in Brussels to discuss a massive aid package for Albania, which suffered an estimated €1 billion in economic losses. The president said "we will adjust our budget accordingly."
To that end, the country has appointed a "minister of reconstruction" — Arben Ahmetaj — to oversee all earthquake recovery efforts. In its draft budget for 2020, the government has also allocated $63 million (equivalent to 0.4% of Albania's GDP) to build houses for those made homeless by the disaster.
One of Albania's growth industries has been tourism, with arrivals jumping by 20% annually over the last four or five years; the biggest increases have come from other European countries (particularly Poland) and Israel. At least 20,000 Israelis visited Albania in 2019, with more expected this year.
Asked what impressed him most about his two days in Israel, Meta quickly answered: the Lauder School of Government, Diplomacy and Strategy — a division of IDC Herzliya.
"I was told that a few decades ago, the school consisted of just some old, worthless barracks. But thanks to the Israeli vision of promoting education of the highest standards, it was turned into a leading institution — not only in Israel but internationally," he said. "This is the power of transformation that the Israeli people have — and this is something we need to learn as Albanians, how to transform our own country in the future."
The Kosovo conundrum
One of Albania's long-standing goals is to join the 28-member (soon to be 27) European Union. But this dream has yet to be realized, even though the bloc was finally supposed to give Albania and North Macedonia the green light for accession talks last year.
The road to Brussels has been filled with obstacles, and the latest one came in mid-October when Macron effectively blocked both countries from starting membership talks on the grounds that neither country had done enough with regard to economic policy, human rights, anti-corruption measures and the rule of law.
"We are very determined to join the EU," Meta declared. "It's true that President Macron had asked to review the methodology of EU enlargement, and we hope this methodology will be reconsidered very soon. I spoke with him about it last November when I was in Paris. We are in contact with the EU and we hope it will soon pave the way for positive decisions about Albania and North Macedonia."
Before wrapping up our interview, I asked President Meta if Albania is quietly working behind the scenes to push for the establishment of diplomatic ties between two of its best friends: Israel and Kosovo.
Kosovo currently has formal relations with 116 countries and maintains more than 40 diplomatic missions around the world. In September 2018, the country's president, Hashim Thaci, vowed to set up an embassy in Jerusalem if Kosovo were to win diplomatic recognition by Israel.
Yet Israeli authorities have held off for fear of offending Serbia — and also because they don't want to establish a precedent on self-determination that could be exploited by Palestinians.
"Kosovo and Israel have a great friendship. We wish and we hope that Israel recognizes the independence of Kosovo as soon as possible," he said. "I cannot speak on behalf of either country, but there is great sympathy among Kosovars for the Jewish people, and vice-versa. I hope that time will come. Until then, all opportunities for bilateral cooperation and development should be exploited."