We Share Responsibility for Holocaust, Austrian President Tells Israel
Ahead of Alexander Van der Bellen's visit, Israel reiterates that foreign minister Karin Kneissl, who belongs to the far-right Freedom Party, is unwelcome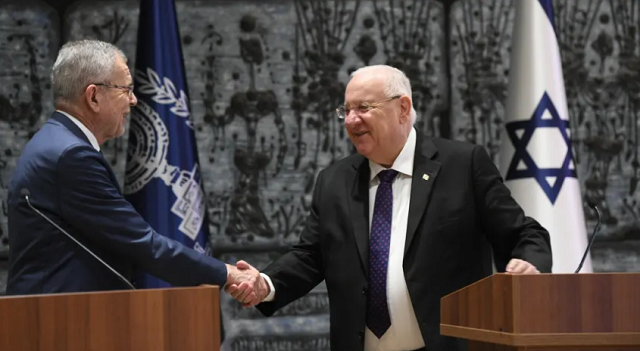 ---
By Noa Landau
Austria shares responsibility for the Holocaust and aims for Jews to be able to live safely everywhere, Austrian president Alexander Van der Bellen said on Monday during his visit to Israel with his wife, Doris Schmidauer.
The two are meeting with Israeli President Reuven Rivlin on Monday and with Prime Minister Benjamin Netanyahu on Tuesday.
The Austrian foreign minister Karin Kneissl was not invited to join the presidential delegation, Israel clarified ahead of the event, despite Austria's attempts to get Jerusalem to stop boycotting the politician, who belongs to the far-right Freedom party.
Israel has boycotted the Freedom party for years, because of its neo-Nazi roots and because the present Jewish community in Austria complains of anti-Semitism by contemporary party members. The Netanyahu government however elected not to shun the Austrian government as a whole, just the party and its ministers.
Since the advent of chancellor Sebastian Kurz, Ausria has been working hard to legitimize the coalition government including Freedom, and to also strengthen its ties with Netanyahu's government.
Her party affiliation aside, Kneissl personally is boycotted because in her book, she compared between Zionism and Nazism, and has criticized the Israeli army and Netanyahu.
Diplomatic sources suggest that because her role is key to the relationship between the two countries, there could be a thaw in the future.
On Sunday, Van der Bellen visited Yan Vashem, accompanied by Rivlin.
Earlier during the reception, Rivlin told the Austrian president that "Unfortunately, anti-Semitism is not disappearing. It is raising its head across the world, and even more so in the last year. In your own country, there were some fifty anti-Semitic incidents last year, some of which are being investigated by the police. On the other hand, Austria led European support for the EU's statement against anti-Semitism… The way to stamp out anti-Semitism has two elements – taking responsibility for the past and an uncompromising fight against any hint or act of anti-Semitism or xenophobia of any kind."
Van der Bellen thanked Rivlin for the reception and said, "Austria bears shared responsibility for the Holocaust. Many Austrian citizens took part, and we bow our heads in memory of the victims in humility and respect. We admitted our shared responsibility too late and that caused problems in our relations at the beginning, but today Israel is a stronghold of liberty and stability here in the Middle East."
The Austrian president went on to say, "Our aim is to ensure that Jews everywhere feel safe. It is our responsibility as Austrians to the victims of the Holocaust to ensure that we live in peace and agreement with Israel."
https://www.haaretz.com/israel-news/.premium-we-share-responsibility-for-holocaust-austrian-president-tells-israel-1.6902010